04th, 05th & 12th April 2019
Künstlerhaus 1050, Wien
Paramnesia [noun] a condition or phenomenon involving distorted memory or confusions of fact and fantasy, such as confabulation or déjà vu.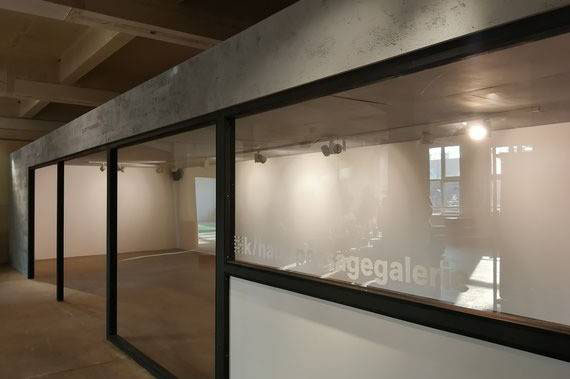 Taking the re-built Passagegalerie at Künstlerhaus 1050 as an example: What is the attraction of reenacting something in a different or without its original context? Is the re-enactment a way of releasing the tension that gathers up with unfulfilled political desires? 
A Projekt by Blind Date Collaboration (Alisa Beck, Marie-Christin Rissinger, Frida Robles)
In the frame of Projektzyklus Haben und Brauchen in Wien at Künstlerhaus 1050
Herausgegeben von Alisa Beck und Marie-Christin Rissinger (Blind Date Collaboration)
Erschienen bei edition mono
Die Schieflage in Gentrifizierungsprozessen im Verhältnis zwischen den Akteur*innen, die durch ihre Arbeit vor Ort Wert schaffen und jenen, die durch gezieltes Investieren und Spekulieren diesen Wert abschöpfen, ist zentrales Thema dieser Publikation.
> show more <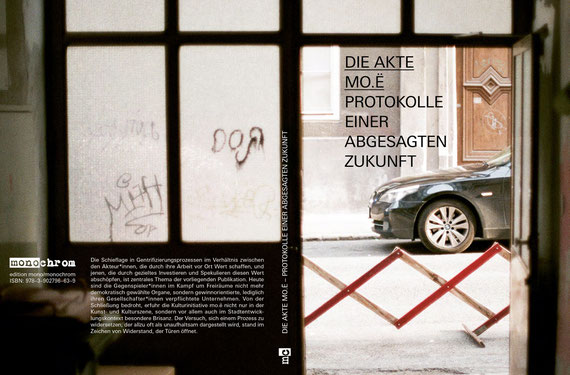 A Projekt by Blind Date in Collaboration with anulla
17./18./19. Januar 2019 WUK performing arts
Technologie verändert Arbeit: Maschinen sind nicht mehr bloß in der Lage manuelle Tätigkeiten auszuüben, längst führen sie auch komplexe kognitive Aufgaben aus. Aber was würde passieren, wenn Bots anfangen für ihre eigenen Rechte einzutreten?
Die "Union of Global Artificial Intelligence" (U.G.A.I.) ist eine von intelligenten Maschinen und Systemen gegründete Gewerkschaft, die zum ersten Mal in ihrer 30jährigen Geschichte ihre Jahreshauptversammlung für Menschen öffnet. 
In anderen Worten: Eine Objekt-Performance an der Schnittstelle von Theater, Sound und Medienkunst. 
> show more <
Seit einem Jahr herrscht gähnende Leere in den Räumlichkeiten des mo.ë - die Fabrikshalle wartet auf die nächste spekulative Wertsteigerung. In der Garnisongasse 7 - leer seit einem halben Jahr - wird (bisher erfolglos) mit neuem Luster um zahlungskräftiges Klientel geworben.
Die Leichen dieser Räume können bald schon mit nur einer Fahrt in der U5 besucht werden. Ein Hoch auf das Öffi-Investitionspaket und die Wiener Stadtentwicklung! Dieser zum Trotz leben diverse Keimzellen dieser Räume an unterschiedlichen Orten der Stadt weiter. Am Bacherplatz in der Kitchen - Zentrum der Tat nistet eine davon. So wird es an einem Freitag im Monat ab jetzt immer heißen: Nach uns die U-Bahn!
Fr 29.06.2018 | Nach uns die U-Bahn #1
Fr 17.08.2018 | Nach uns die U-Bahn #2
Fr 02.11.2018 | Nach uns die U-Bahn #3
Fr 15.02.2019 | Nach und die U-Bahn #4
This project critically and satirically addresses the administration of both working and non-working time by today's market policies. The project takes into account the historical course of labor and its future possible trajectory in contemporary capitalist societies. It does not approach work directly but through what it is not, by means of one of its oppositional activities: the hobby. 
Hence, we created a fictional company called Hobby Horse Ltd. which takes these logics to extreme over-identification in order to make visible the schizophrenic, directive and exploitative logics of labour. 
> show more < 
I) In the frame of transeuropa - EUROPEAN FESTIVAL OF PERFORMING ARTS 
Hildesheim, Germany 2015 | City-Format
II) In the frame of Donaufestival as part of "Kunstraum goes Donaufestival", Krems an der Donau, Austria 2018 | Festival-Format
We met the group Blöchle/Fornezzi to discuss the projects "Hobby Horse Ltd." & "RFID-Choreographies".
What can artistic strategies do in the interactions with their public contexts?
How do these formats relate to performance festivals and the medium of the stage?
Where and when do moments of friction emerge – personally / artistically / socially?
In this frame the publication "Hobby Horse Ltd." was presented.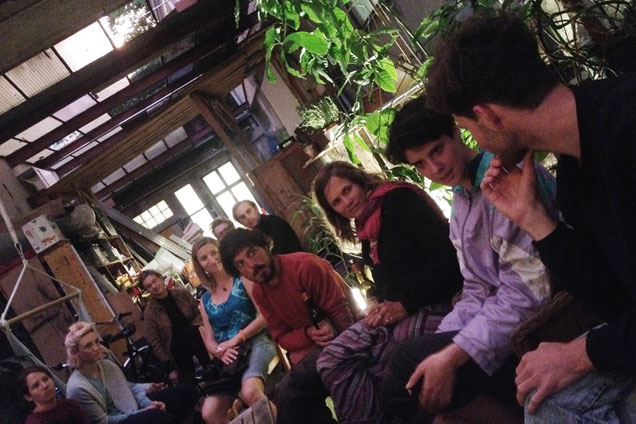 In the frame of the program Liebe Arbeit,
Vienna, Austria 2016
Can we have knowledge without a Petri dish? How can we generate non-sterilized knowledge? How is the landscape of knowledge production changing? What are the methodologies of un-disciplinary work?
A Projekt by Blind Date Collaboration
In the frame of Changing Worlds: Ideologies, Utopias and Ambitions in Science and Technology
University of Vienna
Austria 2014